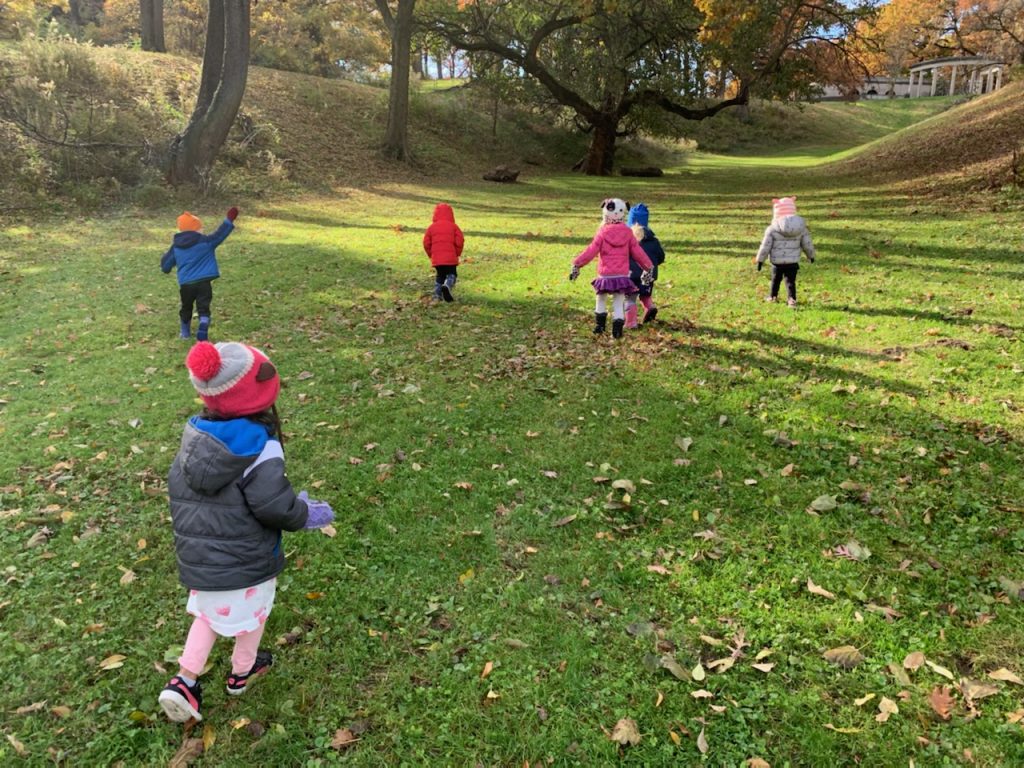 "Can we go to the park today?" asks three-year-old Benjamin.
We are actually in the park when this comment is made. We spend many of our days at the park. It takes me a second to understand that he is asking if we can leave the "forest" section of the park and head to the playground.  As often as we head to the park, we very rarely make it to the actual playgrounds. We tend to be the "forest gang," but today we follow his lead.
"Yes, let's head to the playground!" I reply. Six little friends scream with delight and dash up the 60-foot hill to the slides and swings.
When we arrive at the playground, we discover a newly fallen tree with bark and branches scattered everywhere. I hear Ave call to her friends, "Who wants to make a creation?" But her friends are more interested in the playground equipment. I see the look in Ave's eye. The tree is her playground today—her own personal treasure box. Her brain is on fire, and her creative juices are flowing. Ave quickly falls into a play buzz all her own. She starts collecting sticks, acorns, walnuts, rocks and large pieces of bark. She makes small piles and then settles in to start her "creation." The blank sidewalk canvas is calling to this child. She begins to design, create and investigate, oblivious to her noisy friends on the playground.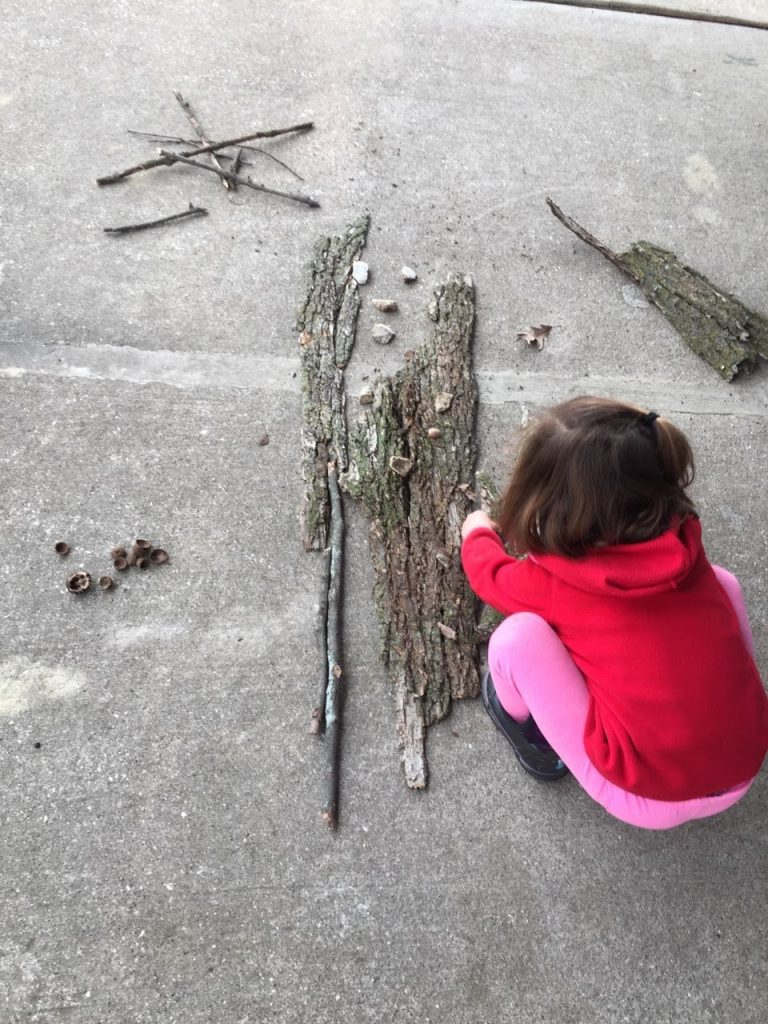 Whenever I see a play buzz like this one blossoming, I offer my services.
"What do you need, Ave?" I ask.
"Bark, sticks, acorns, rocks…treasures!" she responds. "I need more treasures!"
Her "treasures" turn out to be discarded water bottle caps. Ha! I am sure that my brain is working as hard as Ava's as I try to decipher her request. She never looks up and never stops to show me what she means. She is that deep into her play buzz. She has tuned out the world around her—and she is engaged in deep learning. This is the educational foundation that we strive for.
"Do you want STEAM? [Science, Technology, Engineering, Art and Math learning] I'll show you STEAM," I think to myself as this child creates her own curriculum. This is not teacher-directed learning. She owns this.
This nine-foot-long "creation" took our four-year-old friend 40 minutes of intense focus, determination and math and science investigation as she tried different pieces in different places before determining exactly where each piece belonged. She worked with an intensity that would make any early childhood educator dance with joy!
There are math and science benchmarks galore in this nine-foot work of art! Deep, brain-enriching, neuron-firing play. We have art, we have math, we have science and we have beauty. We have it all in this masterpiece from the hands of a four-year-old who used to worry me because I feared that she wouldn't be able to sit for long periods of time once kindergarten began. Ave is a mover, a creator, an explorer, an investigator. She has been a hands-on learner from her earliest days.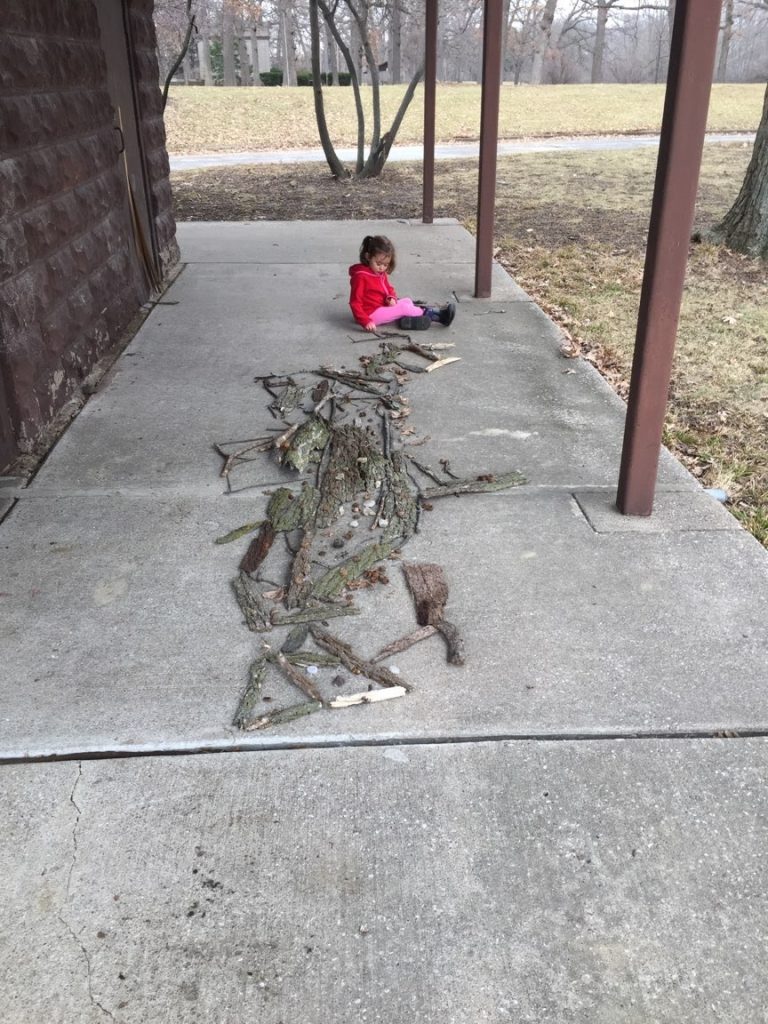 Can Ave recognize her numbers from 1-20? She can't. Can she count to 100? I don't honestly know. I haven't worked on these things with her. She hasn't shown an interest in these benchmarks yet.
Do I struggle with that? Yes, I do. I am well aware of what that first week of "testing" in kindergarten will say about her "readiness." Then I remind myself that Ave's brain may not yet be ready for number recognition and counting, but her brain is ready for this! This estimation, this dimension-building and this logical, mathematical-thinking MAGIC that is happening before my eyes.
These interactions based on experience are truly the best way to lay the foundation for early math and science learning. These are the puzzle pieces that inspire children to keep learning. Ave has created shapes, worked with non-standard units of measurement, created sets and hit spatial reasoning out of the ballpark.
Math and science benchmarks are everywhere in this nine-foot work of ephemeral art! What exactly is ephemeral art? It's art that is temporary and never expected to last. This masterpiece, in a city park where vandalism (sadly) is rampant, will be destroyed in a matter of hours. I feel a slight twinge in my heart.
I get down on one knee and say, as kindly as I can, "Ave, I am going to take pictures of your creation because I am worried that the wind or the raccoons or someone walking at night might accidentally break it. It is so beautiful, and I am sorry that it might get broken, but I promise to share a photo of your masterpiece with your family …."
But, before I can finish my sentence, Ave stands up and says, "Oh, I know. Can we go back now? I am starving!"
This is a child who understands nature and ephemeral art. She engages in scientific exploration and mathematical investigation. The benchmarks for number recognition, when that part of her brain is ready, will come quickly and without effort. There is no doubt that her benchmarks in other areas of math are beyond her years. You can't teach children what their brains aren't developmentally ready to learn. Discover each child's passion and learning style, and the benchmarks will take care of themselves.
Time has flown since Ave made her ephemeral art in the park—and she has just turned seven. As I write this, we are in the final days of the 2020 school year—a school year that has been disrupted by a global pandemic that has brought online learning into Ave's life. It is not going well. Ave's mother just texted me to say that online learning is not her daughter's forte, nor is it hers. This is not how Ave learns, and it is straining their relationship and causing stress in the family. Ave is in tears, her mom is in tears and now her former preschool teacher is in tears.
Maybe it's time for all of us to pause during this pandemic to take a good, hard look at what education could look like in America—without screens, without testing, without walls. It could be the treasure box that we give to this next generation of young minds. Another silver lining of the pandemic.
Oh, and Ave's art creation in the park? It was left untouched for more than two weeks. I guess the raccoons and the would-be vandals appreciated it, too. So share the love and share the foundation of education through play! Trust me, it's STEAM learning at its finest!  Stay safe, my friends.