STEAM Investigations With Autumn's Loose Parts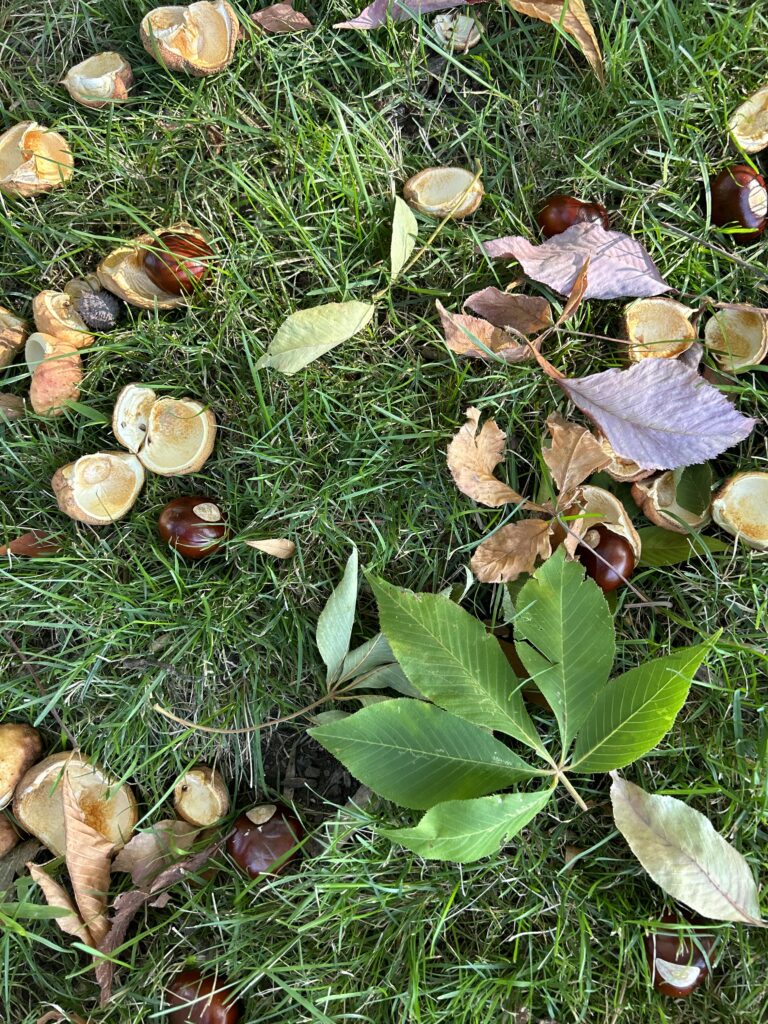 "I found a buckeye!" exclaims Eli with delight. "They are finally falling!"
Sure enough, after weeks of waiting for the buckeyes to fall, last night's rain and wind has shaken some loose from the tree in our outdoor play area.
We love buckeyes, which are dark brown nuts with a light patch resembling the eye of a deer. Our buckeye tree provides an abundant supply of these natural loose parts for the children to gather. As the leaves begin to change color and jackets and hats become a part of our days, our science play takes on a whole new dimension.
Crunchy brown and yellow leaves are scattered on the ground along with our prized buckeyes. We fill our backpacks with autumn's bounty as we engage in a magical morning of discovery, exploration and play. 
This is science, math and art—all wrapped into an autumn expedition. When we set the stage for young children to investigate, engineer and create, we open doors to early STEAM learning. This is deep, hands-on learning, so be sure to give your early learners the gift of TIME to gather and explore the shapes, sizes, textures and colors of autumn. 
When we return to our outdoor classroom, the children fill up their bowls with a treasure trove of loose parts. Instinctively, they begin sorting, grouping, designing and patterning. This hands-on learning can be used to deepen children's understanding of the aesthetic qualities of natural materials, to enrich their vocabulary and to get their creative juices flowing. When children sort materials, they begin to understand that certain things have similarities and differences. There are different weights, sizes and textures.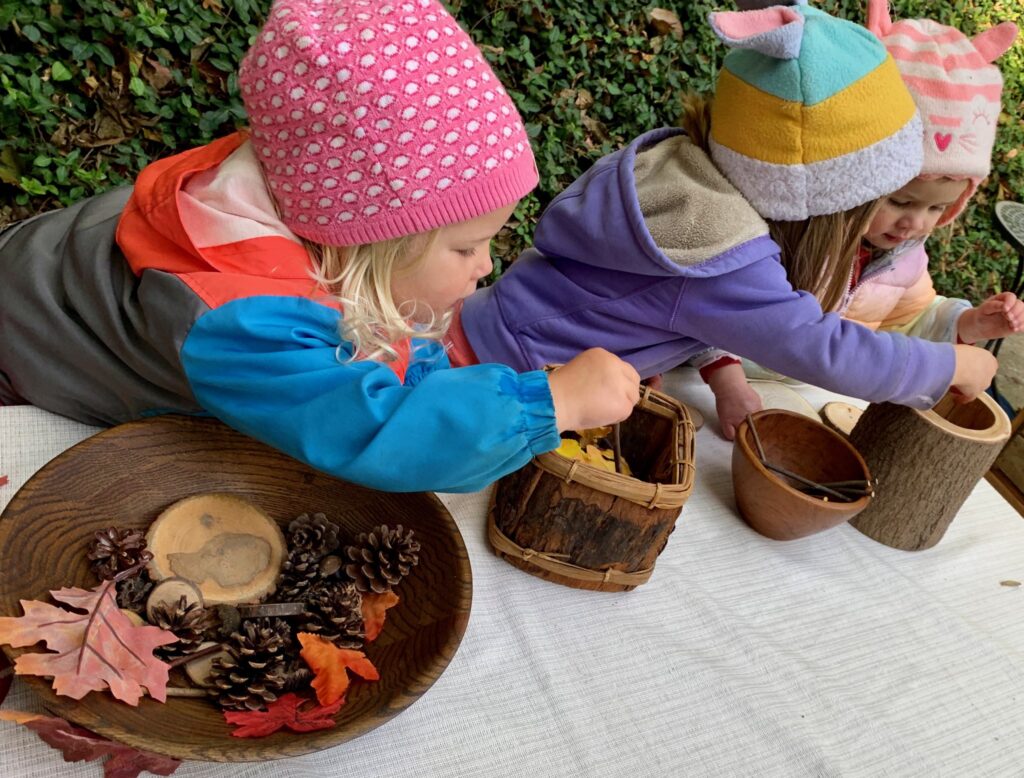 Classifying is the skill of grouping or sorting items by similar characteristics. Being able to match items and explain why they go together is an important part of cognitive development. Children between the ages of three and four enjoy sorting and classifying objects by a single characteristic. By allowing ample time for exploration and play, you will give the children opportunities to classify objects by more than one characteristic.
When children engage in design, they often use nonstandard units to measure length and capacity. They use vocabulary that describes and compares length, height, weight, capacity and size. They express wonder and curiosity about their world by asking questions, solving problems and creating art that may change course in the middle of their design process. Loose parts enable children to develop and use models to represent their ideas, observations and explanations.
All of these creative endeavors will meet Illinois Early Learning Standards—and, if you live outside of Illinois, they will very likely meet your state or institution's early learning requirements as well.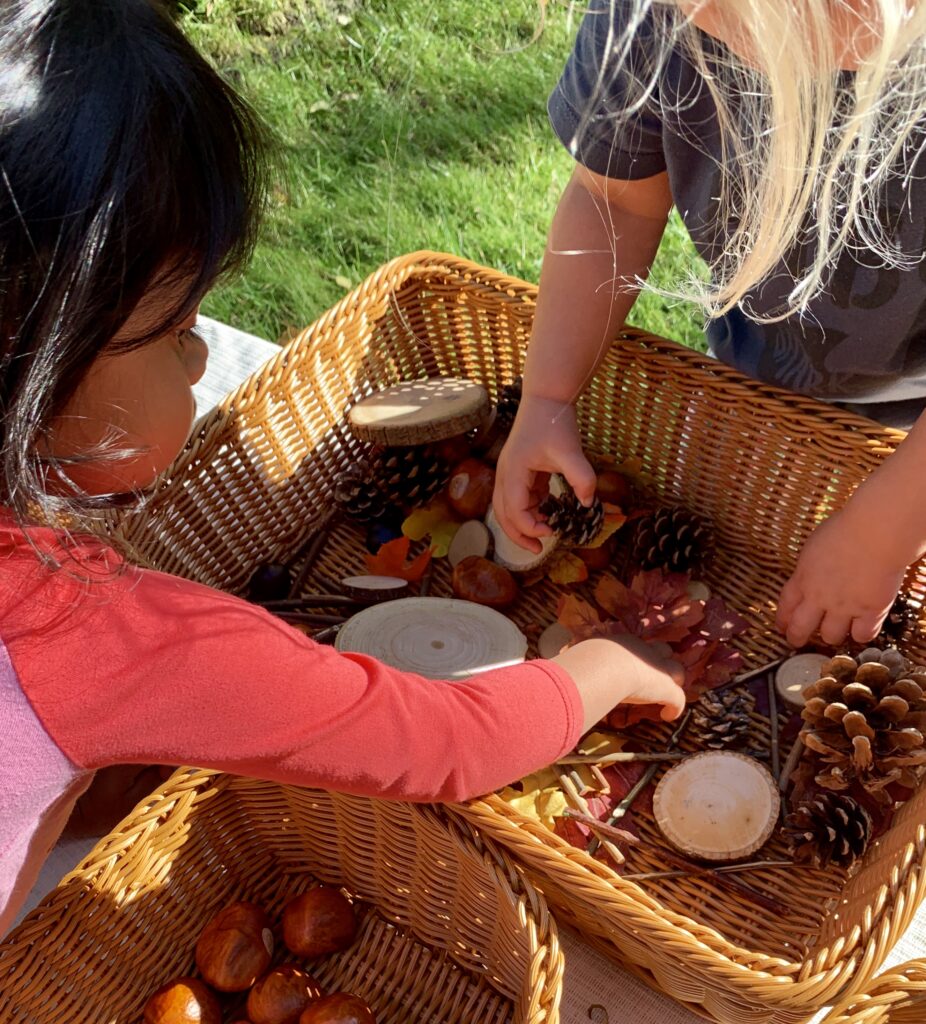 When children observe, ask questions and draw conclusions, they are engaging in the scientific method. As they engage in these simple experiences, they are also becoming more proficient at problem-solving, reasoning, predicting and making connections. By creating these opportunities for children to see the world through a different lens as they play with loose parts, we open up new avenues of exploration and discovery.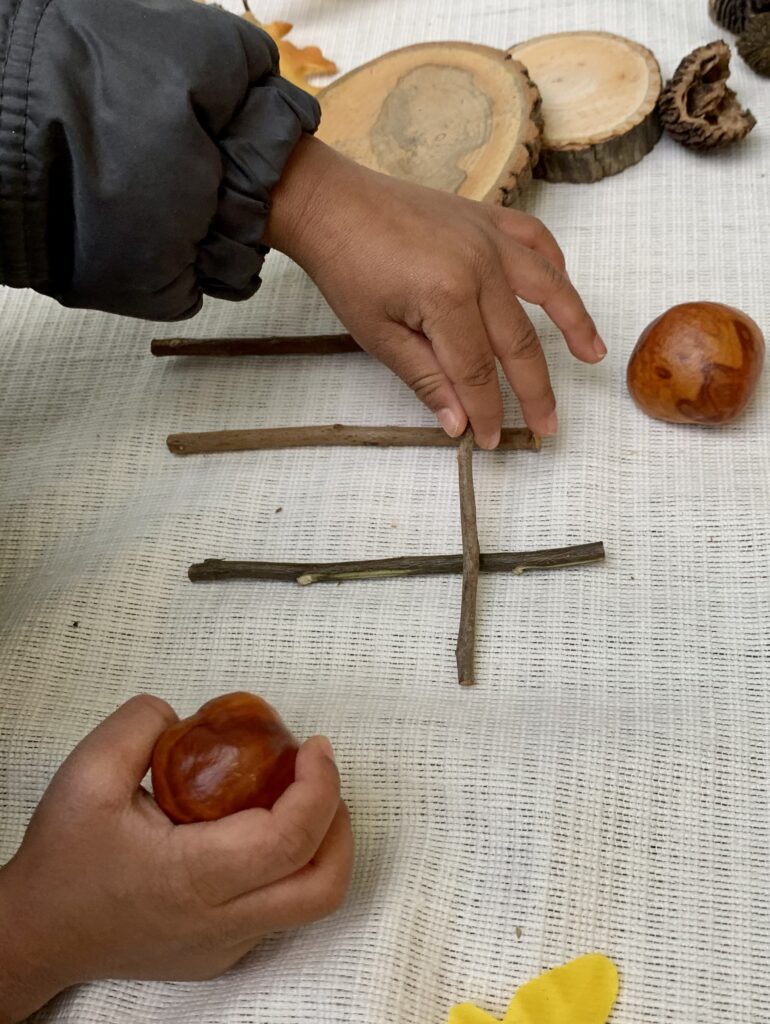 This is a morning spent exploring concepts such as symmetry, geometric shapes and spatial awareness (how things fit in front, behind, next to or underneath something).
Recognizing, predicting and building patterns are important early math and science skills that lay the foundation for later STEAM learning. 
Natural loose parts can be found in almost any neighborhood and are free for the taking. So gather up some loose parts with your budding STEAM explorers and let the learning begin. The curriculum is waiting for you in all of those autumn treasures just waiting to be found!